Lightweight – Elegant – Eyecatching
Name badges provide the key part of every customer-facing business
It's not just about displaying someone's name. They create a professional image and bridge the  visual gap between you and your audience. The first time a customer comes in contact with a member of your staff, their name badge will be one of the first things they notice.
Independent research suggests badge-wearing employees are perceived to be more friendly, professional and polite. Plus, employees report that a personalised badge enhances customer face-to-face contact, and that the employee takes more pride in their work.
These badges are also lightweight meaning that they do not pull at clothing, cause a lapel to "fold over" when you lean forward or a pocket to droop while creating a stunning visual representation of your companies image.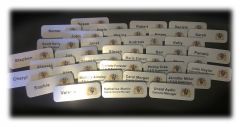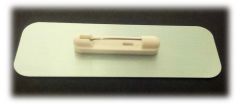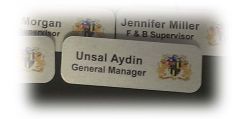 See these badges in person at the Honest Lawyer Hotel Durham.
The Plastic badges are available in a gloss white finish (which can be fully printed in any corporate colour)
Sizes
– 25 x 75mm. (Rectangular)        – 32 x 75mm. (Rectangular)
– 50 x 75mm. (Rectangular)         – 38 x 75mm. (Oval)
The Aluminium badges are available in various finishes including –
– Brushed Silver        – Mirror Silver        – Mirror Gold
– Gloss White  (which can be fully printed in any colour)
Sizes
– 60 x 20mm. (Rectangular)
– 75 x 25mm. (Rectangular)
– 85 x 34mm. (Rectangular)